I just want to state first off that this is not a post trying to promote or put affiliate links to or for Market Leverage (My blog is not Zac Johnson). I am doing a honest review of my thoughts on Market Leverage.
I'm not sure if it's just me but Market Leverage seems to be doing A LOT of viral / social media marketing and I bet it's working. The thing with social marketing is it can spread like wildfire through a plethora of media channels.
I signed up for Market Leverage about a month or so ago when I was getting interested in doing affiliate offers. I also signed up with Never Blue Ads at the same time. I'm not going to talk about my experiences with affiliate marketing as I just wanted to give my views on Market Leverage.
First off I don't like their home page (once you log in). It looks way too unprofessional to me for a company that is definitely more professional then their site makes them look. It lists your stats in a boring black text in the center top of the page. Heres what I mean:
Welcome back: contact@brynyoungblut.com! $$MONEY EARNED$$
After money earned it lists the amount then says your month to date, yesterday and today earnings. It's not so much that I don't like how they show the stats on the main page it's more of how they display it. First off a exclamation point after my email is just lame and looks unprofessional. Second to make it even worse the Excessive amount of money symbols…must I say more.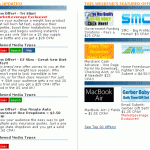 Next is the offers showing below the stats. It shows new offers and featured offers. To me it looks really ugly but I guess if you don't really care about what the offers look like and all you care about is finding a good offer to promote then it may not matter much to you. All I'm saying is that personally if I'm going to be putting time and effort into a company I want them to be putting the same time and effort into making their site look professional and appealing.
I'm not even going to get into the links part that shows all the links for the offers. That's probably the part that I see and right there decide to use a different company because of how messy and cluttered it looks.
Anyways I'm not trying to rip up or degrade Market Leverage. They seem to have a good track record and I myself am not a professional affiliate marketer so with that in mind my opinion should be taken with a grain of rice on this subject. What they are doing that I like are promoting massively through some large blogs such as Johnchow.com, jonathanvolk.com and mixedmarketarts.com with giveaways from iPods, Flip video cameras, USB pens, AMEX credit cards and more. Now just think, if these guys are promoting them then they must be doing something right.