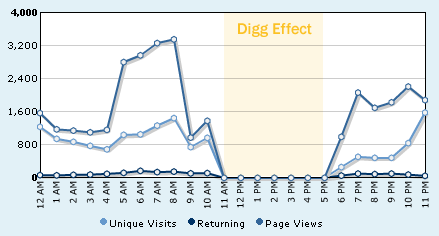 I have seen so many websites featured on the front page of digg that either don't load or have suspended accounts from their web hosts because they are just not prepared for the rush of traffic. Since I run many websites on one server I could NOT handle that initial rush, my server is at a steady 30-40% CPU usage on average already…mostly from the millions of hits my image sharing website gets daily but I can't really complain.
I can honestly say right now that I would not want to be on the home page of digg. It would be nice but the amount of traffic most likely would be too much on my current server. I plan on upgrading but considering all of my websites are not monetized and all free services used by thousands of people there's only so much I can personally afford. If I was working full time I would have no problem getting a bunch of dedicated servers but right now being a full time student and working part-time there is no way in hell I could afford more.
Do you guys think you could handle the front page of digg with your current host? I'm no expert but I think the minimum requirement would have to be at least one decent dedicated server. If you've ever experienced a surge from StumbleUpon and had trouble with that then good luck surviving a digg frontpage.
Please DO NOT digg this!