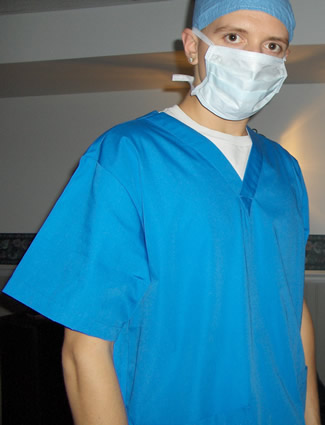 Alright well I'm not a real doctor but this is my Halloween costume. Pretty boring eh?
I could care less about Halloween but since we're going out to a club you pretty much have to dress up…so I figured if I had to dress up I wanted to be at least comfortable. What's more comfortable then scrubs?
It was a pretty cheap costume too considering all I had to buy was the scrubs (which I can return if I don't fall in love with how comfy the pants are to lounge in). I got the face mask and hair net from the hospital my brothers girlfriend who just so happens to be a nurse. Free health care is awesome.
Anyways so I just figured I would do a quick little post about my costume and see what everyone else is planning on dressing up as for halloween (tomorrow night).
So if you are, what are you dressing up as for halloween, or if not, why not?