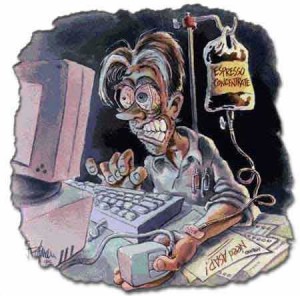 Lately I have been putting in 16 hour days, literally. I pretty much live and breathe Affiliate Marketing, with the exception of friday/saturday nights. Other than that I am usually on the computer working on something.
It is really starting to catch up to me and my profits, so last night I took some time off, played some Grand Theft Auto and went to bed early. I'm still pretty tired today but I plan on taking it easy again tonight so I can let my campaigns do their thing. My problem is I analyze my stats so often every day that if I see something even remotely off I sometimes will make changes to my landing page or even my bids. I am a very impatient person and I like fast results, but that's not always how it works. I remembered back during Christmas when I didn't do anything for about 4 days my profits got better and better because I wasn't touching anything and I let it run it's course.
Obviously you need to constantly tweak things but I wouldn't advise doing many of them per day, it most likely won't work out too well. Let things run their course and if it's going down hill on it's own, THEN make a change.
You will be a lot more productive if you don't overwork yourself, so do yourself a favour and get off the computer from time to time. It's hard as hell for me since who doesn't love watching money pour in?
Now go refresh them stats, kidding, kidding.