If you've been using Tracking202 you know just how great it is already. But what if got even better?
I personally use Prosper202 for most of my tracking simply because I like my own hosting and relying on myself but I have screwed around with the Tracking202Pro platform and it is incredible.
It has much more features than the self hosted P202 and a much nicer interface.
Put this into perspective, I self host all my traffic and spend over $800 a month on my servers. You could be setup on Tracking202Pro for as little as $19.95 a month. That's not to say you couldn't host Prosper202 on a cheap server if you have low volume but your probably better off on their network of fast servers, plus you won't have to move all your campaigns once you outgrow your cheap server.
Anyway I just wanted to write a quick post about this since my buddies Wes and Steven offered to give me a coupon to share with my readers who want to try it out.
They are offering a 7 day free trial for all new sign ups so why the hell not even check it out?
On top of that you can use this Tracking202 coupon code:  BRYNYOUNGBLUT which gives a 10% discount on the monthly fee for 3 months.
If you want you can signup through my affiliate link which has the discount coupon prefilled here:
https://pro.tracking202.com/ref2/BRYNYOUNGBLUT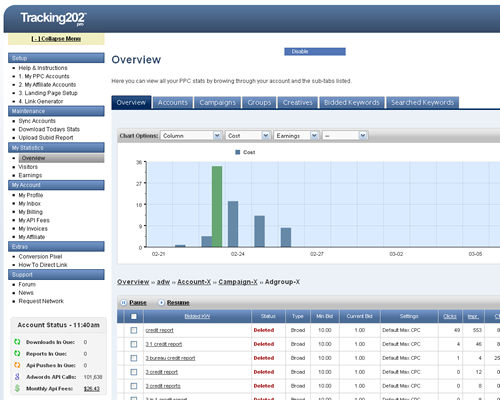 Note: The screenshot is from a DEMO account.