Day 1 (Saturday, August 8 )

I arrived a bit early on Saturday around 3pm with Max, we dropped off our bags real quick in The London Hotel (amazing hotel), and grabbed some grub with Ratko and his buddy. I forget the places name but the portion sizes were HUGE…I asked the waiter if anybody ever finishes and he just laughed and said no.
From there we headed back to the hotel to unpack a little. We then headed to the Wickedfire party by Sybarite Elite or sybelite as I like to call them. The network is owned by Bryan, who I had just met that night and I must say he is a really nice guy. I would definitely work with them in the future.
The party was great, we were gonna watch the UFC fight but the Hotel was being a bitch on bandwidth and would not let it live stream…oh well I just kept hitting up the booze.
Some pictures of me that night: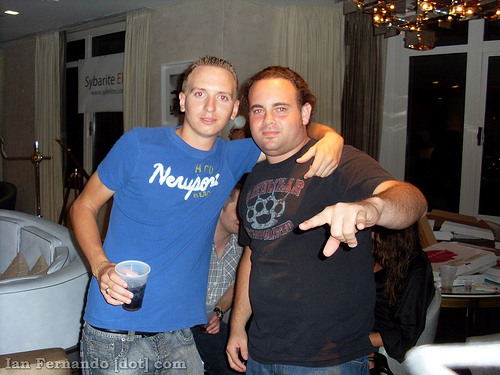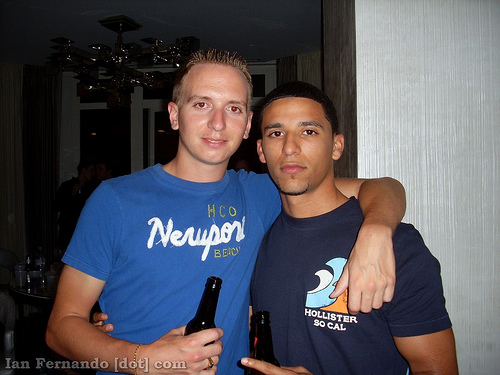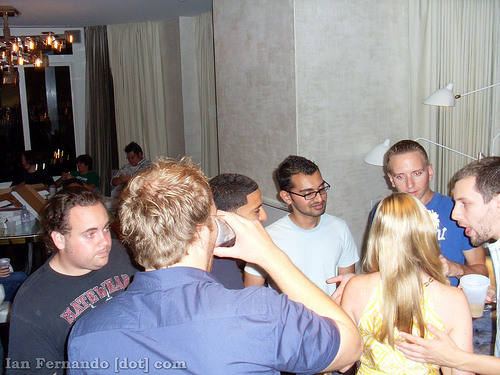 The night was great and ended with some drama but I didn't see it so it didn't bother me…thanks again for the party Brian.
Day 2 (Sunday)
Headed to the meet market and pretty much hung out there all day. I walked around a few times then decided to just hang out in the middle where everyone was constantly walking by.
Me, Ian Fernando and Adhustler just stood there in a group and it seemed everyone noticed at least one of us so it was great to meet tons of people…as well as mess with some (shaking their hands and not letting go until they pried their fingers away…lol).
So after the meet market I headed back to The London NYC hotel and had a short dinner with my boys from Pinnacle Dream. I had to rush out early to make it for Ian's IANteract Dinner which turned out to be great with a nice surprise at the end of the dinner:
We were all given a bottle of Dom Perignon from Elite Profits.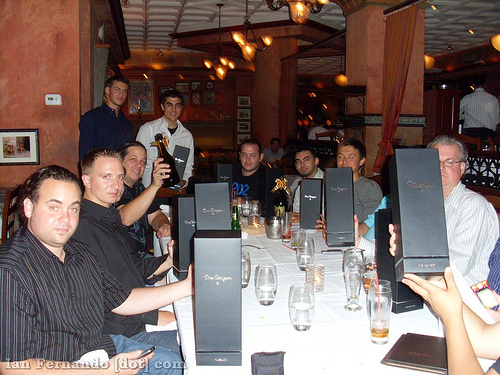 After dinner we headed to the Shareasale party which was….eh ok. It was pretty boring to be honest, I was only there for the booze.
I got a message from my boys at Pinnacle Dream and a few of us headed over to their penthouse suite at The London NYC. They told nobody to invite friends but it of course turned from about 15 people to over 100, soon enough we were all getting escorted out by security for noise complaints. What I don't get is how they can even do that…the room beside the penthouse was taken by another guy at the party and the music wasn't even that loud. What do you expect to happen to a penthouse suite anyway?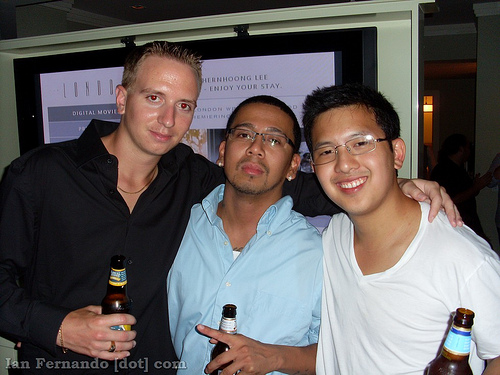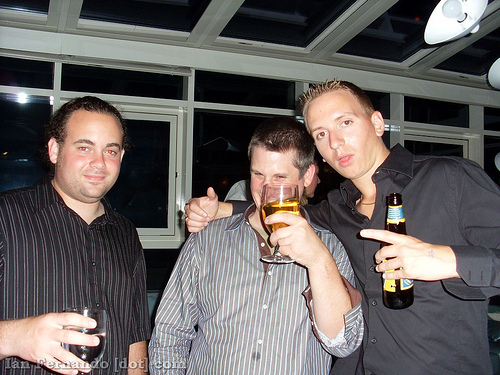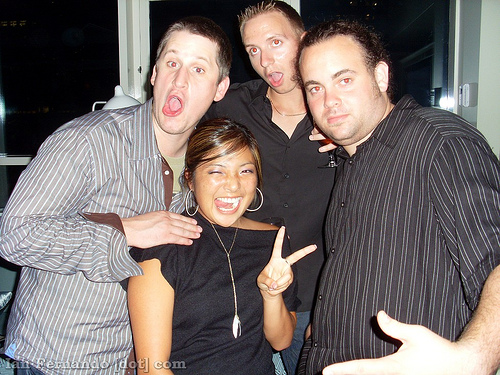 We hadn't had enough booze apparently, so we headed down the street to a bar called Faces and Names in which we drank our faces off even more…I gave a bum 5 bucks to give me a 10 second pitch about why he's homeless.
Day 3 (Monday)
Woke up and headed over to the exhibit hall in which I walked around then pretty much hung around the Convert2Media booth and drank some beers. They had a pretty sweet booth and an amazing location…it was farther away from the massive crowd of booths and so much nicer than to be jam packed around people.
I kept telling other networks who had no people around them that they should get a keg…seriously. Think of it this way, even if 90% of the people standing there are just there for the beer, it makes your booth look popular in which others will want to come and see what is going on. These companies spend thousands on their nice booths and girls when all they really need is an incentive…booze. Smarten up people.
I briefly went to the 202 Meetup and then left with Benny to grab some more beers from the C2M booth.
After the exhibit hall me, Adhustler, Dennis Yu (this guy knows his shit and is really open) and a few others headed to the NY Yankees game sponsored by Monetizeit in which we had our own private box to watch the game in. That day was frickin HOT so a nice Air Conditioned box was AMAZING.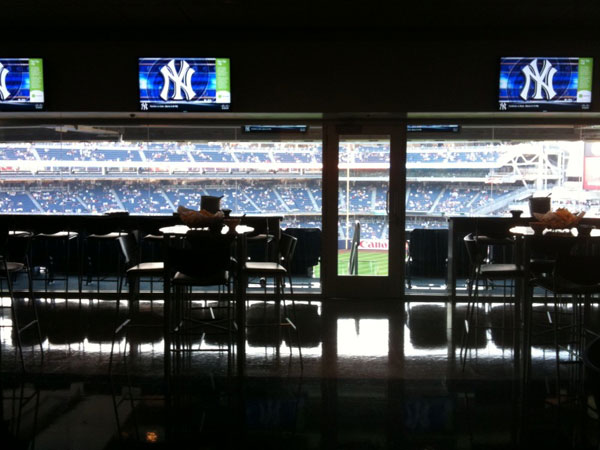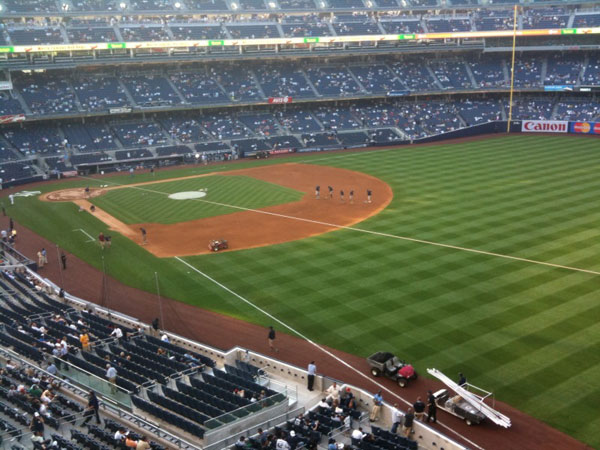 After the game we headed over to Touch nightclub and weasled our ways into the VIP section which had free bottle service courtesy of Michael Guida from GetAds.
Then we headed down to the same pub as the night before and had some drinks again…NYC just doesn't sleep I swear.
Then….we headed over to the Pinnacle Dream penthouse again where a few of us chilled and called it a night around 4am?
Day 4 (Tuesday)
By now the effects of little sleep and too much drinking were definitely catching up to me…I felt like crap and pretty much slept in the hotel all day…had a quick lunch with Ian Lerner of Opes Media than headed back for more rest.
I then made it over to the Blue Water Grill for some dinner courtesy of Mike Cataldo and Nate of Tatto Media. Also met Jesse Silver who was a cool guy and seemed really knowledgeable.
I drank atleast 7 Vodka Tonics at dinner and started feeling better…so I stayed out (which I regret now) and had a fun time just chilling with the Monetizeit crew on the rooftop of the Dream Hotel.
Day 5 (Wednesday)
I woke up and felt like I was going to die…and I had to pack everything and leave for my flight in half n hour. I popped about 4 tylenols within an hour, pounded water like it was going to run out and finally made it to the airport. Could things get any worse? Of course they could! Our flight got delayed by an hour…but I finally made it home around 6pm…what a trip that was.
All in all ASE09 NYC was AMAZING, I met a lot of great people and saw a lot of friends. I am still feeling sick as I write this with a really sore throat and cough but it was so worth it.
Thanks a lot to Shawn and Missy for the free press pass, you guys rock and do an amazing job with the shows. Keep up the great work.
Can't wait for Vegas!