Obligatory haven't posted in forever starting sentence: (Holy shit a new post? Whats it being almost a year now… )
I found this simple but awesome PPV target scaling script years ago I believe on the Affbook/PPV Playbook forums (they are awesome btw and yes that is my referral link).
Here is a screenshot for an example of what it does: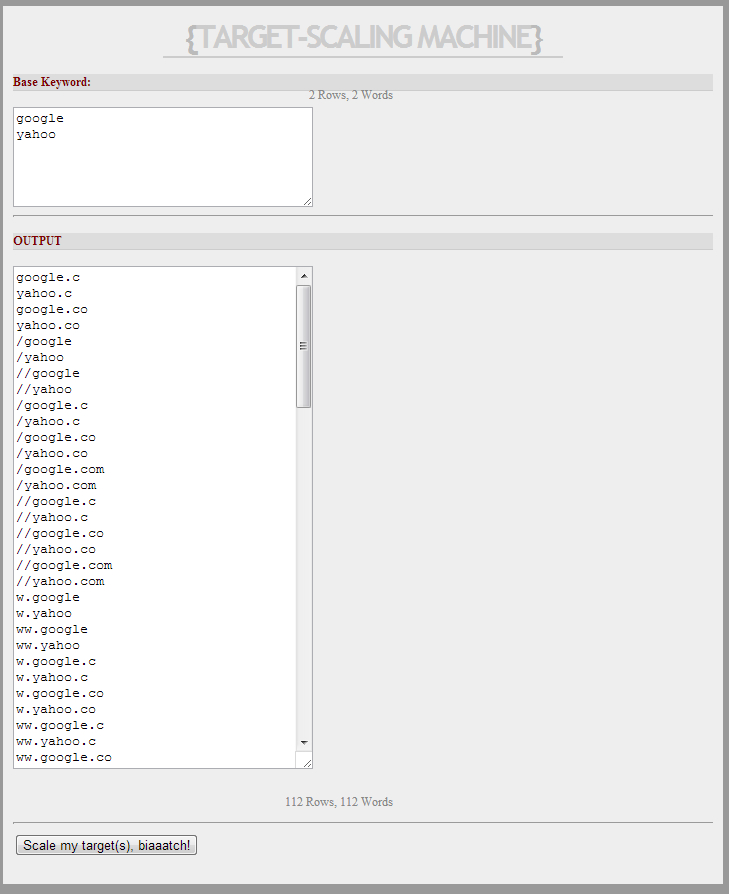 You would be surprised just how much traffic these variations can get and most of the time with ZERO competition.
Why bid high with lots of others on credit.com when you can bid on:
credit.c
credit.co
/credit.c
/credit.co   etc.
Before this script I used to do this manually…yeah FML.
That screenshot is my self hosted version, it's a very plain simple script but takes a second to use and does wonders for scaling out ppv campaigns.
I searched around and believe I found the original creator. I guess they just gave out the script back in the day on the forums then later made a post about it where others can use it (after a tweet or share): http://moneymachinefactory.org/blog/scale-your-ppv-campaign-with-this-script/
If you want a self hosted version just let me know I'm sure I can send you the file but realistically there is no data collection or anything so I don't see any risk using the one on their site.